Happy Happy Hawwmp Day, y'all!  Hope your week is going well! FAIR WARNING!!  There's a LOT of info in this post so…getcha a cuppa and…settle in.  It's ALL good, I promise!! 🙂
I put my September Paper Pumpkin kit – the Spooky Treats kit – together last night and it is CUTE CUTE CUTE!!  But – before we get to that…I want to remind you that World Card Making Day is coming up SOON!  Saturday, 1 Oct is the big day and we've got FUN STUFF planned for you!  First – Stampin' Up! has a FB event in the afternoon that you're going to want to attend (it's FREE!).
They ALSO told us that there's a BIG ANNOUNCEMENT that they're going to share with us at the event, so… 😳😳😳  On top of that, there's a brand new stamp bundle that you'll get to see demonstrated at the event – and you can even buy it right now to stamp along during the event!  Check out the info down below – and…hope to see you there!
Secondly – our Inkin' Krew is ALSO holding a day-long Facebook event!!  We've done this for the past couple of years and…it's FUN!  The Facebook page is open right now so that you can join and start the fun.  I've got the link – and the agenda for our LIVE card making videos (I'll be on at 7pm Eastern!) – down below.
There's a LOT of stuff down below.  And – be sure you pause at the section about the ….Starter Kit PLUS Joining Special!  YEAH!  It's starts next week (4 Oct) and runs for the whole month.  And…it gets you EXTRA goodies in your Starter Kit so…be SURE to check it out!
Okay.  Phew!  Let's take a quick look at the September Spooky Treats Paper Pumpkin Kit. 🙂
If you know me at all – you know I was intrigued just by the BOX!!
The exclusive Spooky Treats stamp set is ADORABLE and the included Ink Spot is Orchid Oasis (one of my fave colors!).
When I tore open the packaging, I found all the things to make EIGHTEEN treat boxes!!
A little stamping, some adhering, and some folding later….
Now – THAT'S a pile of treat boxes!
They're all little "belly bands" with a slide out box on the inside in a coordinating color.
Everything was die cut and ready to roll  Like – the cool spider web die cut on this little sweetie!
SUPER SCARY bats in Orchid Oasis – and…Pumpkin Pie! – made the second design super fun!
And the final design – it's my fave (don't tell the others!) – sports that great plaid from the box!
The boxes are small – but…they'll hold Ghirardelli Squares – or Dove Pieces – or….Reeses Pumpkins!  Not candy corn.  They won't hold candy corn.  Don't even try. 😉
And they're pretty sturdy – so you won't be hurting it if you put PLENTY of goodies in them!! 🙂
If you'd like to see how it goes together….check it out right here!
And – if you're a Paper Pumpkin Subscriber – then you can get extras of this kit and/or refills! Whoo-hooo!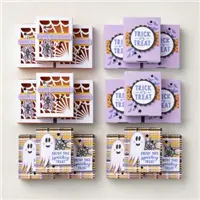 Okay – so now that you've seen how fun the September kit was  – let's take a look at…. the October  "Ho Ho Ho" Paper Pumpkin Kit….
'Tis the season to make your own Christmas cards with the Ho Ho Ho Paper Pumpkin Kit! This kit contains whimsical designs of Santa and his reindeer in a classic Christmas color palette which is sure to match various styles of holiday décor and look great on mantles everywhere.
Each kit contains enough supplies to create 9 festive cards—3 each of 3 designs—and 9 coordinating envelopes. These cards are sure to bring the warm holiday spirit.
And word from the North Pole is that this kit coordinates with NEXT month's Paper Pumpkin tag kit AND a special add-on product! With so much coordination between products, you'll have a breeze at creating a cohesive look for all your holiday gifting needs. Make this season the most wonderful time of the year for your loved ones—and for yourself!
Here's what you'll find in the box!
– Ho Ho Ho Photopolymer Stamp Set
– Early Espresso Classic Stampin' Spot
– Printed card bases and envelopes
– Printed die cuts
– Die-cut labels
– Iridescent foil die-cut snowflakes
– Vellum
– Vanilla epoxy dots
– Adhesive dots & Mini Dimensionals 😎
Card size: 4-1/4″ x 5-1/2″
Coordinating Stampin' Up! colors: Bermuda Bay, Cherry Cobbler, Crumb Cake, Early Espresso, Shaded Spruce, Sweet Sorbet, Very Vanilla
Just note – you have to be signed up for Paper Pumpkin by 10 October in order to get THIS kit!  Sign up on the 11th ….and you'll get the November kit.  Which is probably awesome (and coordinates with THIS kit) – but…it's not THIS one!
NOTE!  Supplies may be limited toward the end of the subscription period.  AND – Christmas Card kits tend to be REALLY POPULAR so…this might be a great time to sign up (if you're not already!!) and/or….add a couple of kits to your subscription (which is MY plan!!).
If you're not a Paper Pumpkin subscriber – There are two ways to sign up – check it!
You can sign up for a subscription where you're billed monthly for your kit – click here to get started.
OR…do a Prepaid Subscription!  To see the options for prepaid subscriptions in my online store, click here.
Happy crafting, y'all! 🙂
And – be SURE to check out the info about WCMD (1 Oct) AND the Starter Kit Plus Joining Special coming next week!
TTFN
Connect with me!  https://campsite.bio/stampsnlingers
---
HOST CODE FOR 16 SEP – 30 SEP: CHZU7CTX
Use this host code when you order $50 or greater and receive a free gift (AND the Monthly Card Tutorial) from me!  If your order is over $150, please do not use this code, but you'll still get the free gift.  The free gift is your choice of any item valued up to $10.00 in any active Catalog!  That includes some of the Host Exclusive stamp sets!  See my Customer Rewards page for full details.
Note: Make sure that you can see my name on the final checkout page listed as your Demonstrator when you order so that you know that you're ordering with me and you'll get my rewards!
You'll also be getting a link to my ZOOM The Craftroom (an exclusive TWICE-A-WEEK online event for my customers) and the monthly Online Tutorial. The September Tutorial features the Perched in a Tree Bundle!  
THE INKIN' KREW WORLD CARDMAKING DAY FACEBOOK PAGE IS READY TO JOIN!! 
Our Inkin' Krew World Card Making Day event page is open to join! Our card making event will be on Saturday from 9 AM ET until 9 PM ET and will feature card making presentations live on the event Facebook page – as well as some fun giveaways!
Head over and join our page anytime between now and Saturday – right here!  I'd suggest you head over to that page right now and get all joined up (request to join and we'll let you in quick as we can!).
We'll be posting a few notes here and there over the next few days (and there'll be some giveaways in the mix too), but we'll really get going around 9:00 AM on the 1st!
Check out the schedule of Live Card Making Videos!  Note that there's a break during the Stampin' Up! WCMD Event – so…you don't even have to choose!!
Can't wait to spend the day with you!!
---
STAMPIN' UP! WORLD CARD MAKING DAY EVENT
!

FREE VIRTUAL, CRAFT-ALONG EVENT WITH STAMPIN' UP!
Stampin' Up! is also hosting a free, virtual card making event on 1 October!  In just under three hours, Stampin' Up will make three unique cards and will share the instructions with you.  Everyone is invited and welcome, and registration is not required.  Mark your calendars now!
STAMPIN' UP! WORLD CARD MAKING DAY CRAFTING EVENT DETAILS
Who: Anyone and everyone!
When: 1 October from 2:00–5:00 p.m. (Mountain Time)
Where: Online
Price of Event: Free
Registration Dates*: 11 August 11 – 1 October (Registration is not required!)
*You can always participate in the event without registering. Registration is encouraged because it's the best way to stay up to date regarding event details.Click here to register for the 3 hour Stampin' Up! event.
Everyone is invited and welcome to attend this FREE event!  There will be three card-making presentations and you are welcome to craft along.  If you don't want to craft along, join us anyway!  It's the perfect opportunity to hang out, watch, and be a part of the Stampin' Up! experience.
And – there are THREE sets – including the BRAND NEW! Warm Welcome Bundle! – that will be used during the event.  Order any of these bundles by the 30th – and you'll get a free pack of Iridescent Pearl Basic Jewels with your order – don't forget to ADD them to your cart! 🙂
---
Starter Kit PLUS Joining Special
Starts on 4 Oct 2022!
October is a fabulous time to join Stampin' Up!  You will get even MORE FREE products in your customizable Starter Kit!  Between October 4-31, when you join, you will get $155 worth of products in your Starter Kit for only $99!!  That's an EXTRA $30 in FREE product of your choice!! Plus you'll get free shipping and all the fun being a part of Stampin' Up! and our Inkin' Krew Team!
STARTER KIT+ PROMOTION DATES:  4 – 31 OCTOBER 2022
When you purchase your Starter Kit, you will be able to redeem $155 of Starter Kit eligible products for just $99!!
You can select any eligible Stampin' Up! products up to the stated value of $155.
Your Starter Kit also includes business resources like catalogs, brochures, order forms, and postcards.
The Starter Kit also includes a FREE past Paper Pumpkin kit!
In addition to the amazing added value to your Starter Kit, when you join Stampin' Up! you get to be a part of our amazing community of crafters. Plus, you get to enjoy sharing simple and fun crafting experiences with others, early access to products, and exclusive access to training events!!
New demonstrators who submit their Independent Demonstrator Agreement (IDA) before 4 October or after 31 October will not be eligible for this offer.
Starter Kit+ promotion begins:  4 October 2022
Starter Kit+ promotion ends:  31 October 2022 at 11:50 PM MT
You can check out more information about joining our team here and more details about the benefits of being a Demonstrator and find the link to join here (but…WAIT UNTIL THE 4th!!)
Let me know if you have any questions.  We'd love to have you join us and get this great deal on your Starter Kit!
---
If you need any stamping supplies, I'd be very happy to be your Demonstrator. Just click on the Order Stampin' Up! Online Now button on the right side of the screen to go directly to my online store or drop me an email if you have any questions. Happy Stamping!
---
Shop the Clearance Rack here. Earn FREE Stampin' Up! Products – Join my Punkin Head Peppermint Rewards – My online customer thank you program!
---
Finn Fan Fix