Good morning!  Let's have a moment of silence for the last day of the awesome 2019-2020 Annual Catalog.
Okay.  Done?
Now – let's get ready to RUMMMBLE!!!  TOMORROW!
Yes – you have to wait until tomorrow to RUMMMBLE!!  That's when the 2020-2021 Annual Catalog will be available to you for ordering!
For now….speaking of new catalog goodies – I've got a couple on my cards to share with you today. Yep – I said cards – as in multiples! I made eight of these – four in each design, using the new Forever Greenery DSP and the Lovely You stamp set.  Plus…a little Well Written (available now – and carrying over!) Die cutting! Take a look-see:
The clean and easy design for this one is from the CAS(E) This Sketch challenge this week.
I used two different paper designs in the new Forever Greenery DSP – and Petal Pink mats on both of them.  I adhered the paper to the mats with Liquid Glue.
For the sentiment, I used a Stitched Rectangle Die and cut either a Shaded Spruce or a Pretty Peacock "mat" for the sentiment.
The sentiment itself is cut from Petal Pink with a die in the Well Written Die set – then it's adhered to the "mat" with Liquid Glue.
I popped the matted sentiment onto the card front with Stampin' Dimensionals.
I tied little bows from the gold twine in the new Forever Greenery Trim Combo Pack and adhered them with a dab of Liquid Glue.  I love this gold twine – and I unraveled the "tails" of the bows to make them even prettier! 🙂
I added a single Champagne Rhinestone Basic Jewel and the card fronts – all EIGHT of them! – were done!
On the inside, on a Very Vanilla panel, I stamped one of the gorgeous DistINKtive leaf images from Forever Fern in Pear Pizzazz.  The Lovely You stamp set provided the pretty sentiment – stamped in Pretty Peacock or Shaded Spruce.  Each panel got another Champagne Rhinestone.
I used Liquid Glue to adhere the panel to a Petal Pink mat and into my Shaded Spruce or Pretty Peacock card base, popped the card front on with Stampin' Dimensionals – and the cards were done!
My Very Vanilla Medium Envelopes all got Forever Fern leaves in Pear Pizzazz on the front…
…and more of the Forever Greenery DSP on the envelope flaps.
Et Voila!  Some gorgeous Forever Greenery DSP….a die cut from Well Written…and a perfect sentiment from Lovely You!  And wonderful leaf images from Forever Fern – and you've got the makings of tons of cards for all sorts of occasions!!
I put them all together and – with just a little stamping and die cutting – got 8 pretty thank you cards in short order!
I hope you like and have added these sets to your gotta-have-it-now list!
Be on the lookout for the start of some awesome ordering and joining specials starting tomorrow with the arrival of the new catalog! Whoo-hooo!
If you want to recreate this card – all the Stampin' Up! products you need are listed down below along with the card cuts!
TTFN
P.S.  Just so you know what to expect tomorrow, 3 June – as we transition the Stampin' Up! ordering system to the new 2020-2021 Annual Catalog….Stampin' Up! reminded us that ordering will be unavailable from midnight to noon (MT) while we transition our systems to the new catalog. Ordering will be restored no later than noon (MT).
The GOOD news is that you don't have to get up at the crack of dawn to start ordering your faves!  The bad news is that you may be awake then anyway – out of sheer excitement! – and you won't be able to start ordering your faves! 😉
P.P.S.  The the 2019-2020 Annual Catalog and 2020 Jan – Jun Mini Catalog retiring products will be gone TONIGHT!  Don't miss out!
---
HOST CODE FOR 1 JUN – 15 JUN: VEKRRJF6
The June Tutorial features the Celebrate Sunflowers Bundle!
Use this host code when you order $50 or greater and receive a free gift (AND the Monthly Card Tutorial!) from me!  If your order is over $150, please do not use this code, but you'll still get the free gift.  The free gift is your choice of any item valued up to $10.00 in any active Catalog!  That includes some of the Host Exclusive stamp sets!  See my Rewards page for full details.
---
Stampin' Up! Annual Catalog Kickoff Celebration
Starts TOMORROW!
The brand new 2020–2021 Stampin' Up! Annual Catalog is going live on 3 June 20, and Stampin' Up! is having a celebration!
Anyone who places an order of $250+ or holds a party with $250+ in sales during the month of June will receive $25 in extra Stampin' Rewards!!  So, THAT means that you'll earn $50 in Stampin' Rewards with any order or party of $250+ that is submitted between June 3 and June 30! Yay!!!!
Here are the details:
Customer, workshop and online order types all qualify for this promotion.
Starter Kit orders do not qualify for this promotion.  But you CAN use your host cash toward the purchase of your Starter Kit…holler at me for details!
Paper Pumpkin prepaid subscriptions count toward a qualifying purchase. Month-to-month subscriptions do not qualify for this promotion.
The qualifying amount must be reached with merchandise prior to shipping and tax.
The $25 additional Stampin' Rewards for this promotion will only be awarded once per order/party.
Order Deadline:  30 June 20; 11:50 PM (MT)
Here's a flyer with the details, click on the image to open it to full-size.
Want to host a catalog party??
Drop me a note if you'd like to set up a catalog party!  I can set up a host code for you and you can have your stamping friends place orders with your host code.  If your party reaches $250 in sales, you'll get that extra $25 in host cash when we close out your party!   If you're interested, holler at me for all the deets!
Let me know if you have any questions.  Have fun making your shopping list!
---
Want to Join Us?
Stampin' Up! Joining Special Will Be Available Tomorrow!

Stampin' Up! just let us know about an amazing new Joining Special starting on 3 June – just in time for the arrival of the new Catalog!
It's a bundle bash!  If you've been thinking about becoming a Stampin' Up! demonstrator, now's the perfect time to join. Not only will you get the Starter Kit—already a great value at $99 for $125 worth of products—but for a limited time, you'll get to select ANY Bundle from the new 2020–2021 Annual Catalog for FREE.
There could not be a better time to join the Team!!
THERE'S NO RISK!
NO PRESSURE OR OBLIGATION TO SELL TO OTHERS
NO PENALTY TO DROP
SAVE 20% ON EVERYTHING YOU PURCHASE! 
Check out some of the benefits of joining…
See (and purchase from!!) all the new catalogs ahead of everyone else!
Get 20%–25% off all Stampin' Up! products.
Earn additional income based on your sales and recruiting–just how much extra income is up to you.
Set your own schedule and put in as much (or as little) time as you'd like.
Get online training resources, events, and a demonstrator-only online community with thousands of project ideas.
Access to regular promotions!
Opportunity to earn incentive trips.
Learn creative tips and techniques, share ideas, and meet new friends who love papercrafting as much as you do!
I WELCOME HOBBY STAMPERS!  Purchase the $99 starter kit (and pick $125 worth of product! – PLUS that FREE BUNDLE!) and join Stampin' Up! thru me and you'll instantly become a member of my exclusive Critters-N-Creatin' Krew Online Community!  It's always a fun, pressure-free environment ((prizes, resources, ideas, friendship) and you'll have the chance to share your work in our Monthly Challenges and maybe win the draw!
If you'd like more info on the benefits of joining Stampin' Up! with me – you can check it out on my Join My Team page – or…give me a holler.
---
Stamps-N-Lingers Special Bundles Available For a Limited Time
With the arrival of the 2020-2021 Annual Catalog, I've once again gathered up some goodies from the new Suites (and beyond!) that coordinate with each other and will get you well on the way to making great cards and projects!
I spent some time curating these bundles for you to choose from.  Like your own Personal Shopper.  When you order them, you'll save around 10-15% off ordering everything yourself!  And every Special Bundle includes a FREE GIFT! 🙂
There are bunch o-bundles to pick from and free gifts with each bundle.  Check them out right here – and use the handy form at the bottom of the page to get your order placed!
---
Catalog Shares – Last Day to Sign Up!!
With the imminent arrival of the 2020-2021 Annual Catalog, I'm offering Catalog Shares to give you the chance to try a little bit of all the new papers and embellishments – without having to BUY all the new papers and embellishments! 🙂
As in the past, I'm offering a Designer Series Paper share and an Embellishment share with all sorts of fun new goodies!
I've got a few options for you to pick from:  a New Designer Series Paper Share, a New Embellishments Share, and an I Want It All Share (this one gets a free extra bonus!!).  And there are even DOUBLE shares, too!
Shares are open to anyone – including demonstrators, so…head on over to my Catalog Shares Page and check out your options – then get signed up today!  I'll close the ordering on 2 Jun!
---
Get the Stampin' Up! Products Used in This Project:
Card Cuts Used in This Project:
Shaded Spruce or Pretty Peacock Card Stock: 4 1/4″ x 11″ (card base, scored folded at 5 1/2″); 1″ x 2 7/8″ Stitched Rectangle Die cut (behind die cut sentiment)
Petal Pink Card Stock:  4″ x 5 1/4″ (mats for card front and for inner liner); Well Written die cut sentiment
Very Vanilla Card Stock: 3 7/8″ x 5 1/8″ (inner liner)
Forever Greenery DSP:  3 7/8″ x 5 1/8″; envelope flap
---
If you need any stamping supplies, I'd be very happy to be your Demonstrator. Just click on the Order Stampin' Up! Online Now button on the right side of the screen to go directly to my online store or drop me an email if you have any questions. Happy Stamping!
These are hard days – scary and confusing.
The world is in chaos, it seems.  We've got good happening –
that is overshadowed by the bad…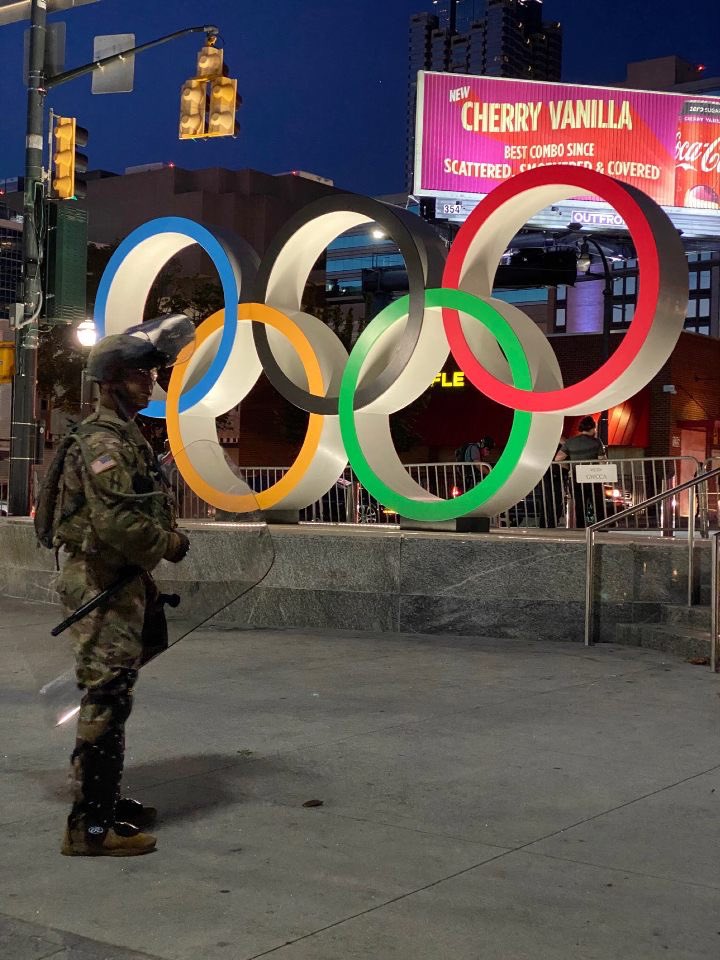 Is there a solution to…any of it?
I don't know.
But…Finn might find the answer.  He…spends a lot of time thinking…
Solemn demeanor.  Crossed hands.
A sure sign that many of the world's biggest problems are being contemplated.
I hope he comes up with some answers.
TTFN
M