Good morning, y'all, and happy Saturday!  Whatcha got planned today?  Anything fun or…just those pesky weekend chores that have to get done?!  We've got that last thing on our agenda, I think!
Tonight, I'll take a break from pesky stuff and treat myself to a little time with y'all!  I've got a really "fun" card for you and I'm going to share how to make it tonight at 7pm Eastern over on my Stamps-N-Lingers YouTube channel!  Here's a sneaky peek!
Got it? 😉
Come see what's what and how to make it, okay!?
Tonight.  7pm Eastern.  Right here!
Now – before you go, I want to share the latest kit in the Stampin' Up! Kit Collection.  I bought three of the new Saying Thanks All-inclusive Kit and I put one of them together the other night while I was chatting with the ladies who had joined me for my Zoom The Craftroom!  Within just a little bit – I had nine WONDERFULLY fun cards put together!
…and I had NO INKY FINGERS!  Why?!  Because there's no stamping!  When you open up the kit – everything you need is already there and done for you!
All of them feature rainbow colors – but this design has an ACTUAL rainbow on it – and I love it!
I love the confetti background on this second design!  And – notice that all the envelopes have decorated flaps! #nonekkidenvelopes!
And THIS one is the one that first caught my eye and made me want to snag this kit for myself! All you have to do is push out all the pre-cut hearts from the panel – and then pop it over a rainbow washed card front with the included Foam Adhesive Strips! 🥰🥰
This is a seriously inexpensive kit for the number of cards and the enjoyment you – or someone you love who'd like to make some pretty cards! – will get from it! It would also be perfect to take along on a trip – just toss the packaged kit into your suitcase and craft by the pool!  Or…in the chalet at the bottom of the slopes!
I'm telling you – you NEED to get this one ASAPly!  Like everything in the kit collection – they're while supplies last.  So you know what you need to do!  Getcha one or getcha FIVE!  You won't be sorry!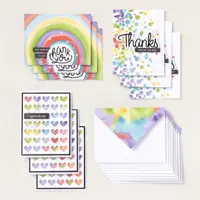 You can also check out ALL the Kits currently available! Just click here!
TTFN
Connect with me!  https://campsite.bio/stampsnlingers

---
HOST CODE FOR 16 JAN – 31 JAN: 9HSSTWEC
Use this host code when you order $50 or greater and receive a free gift (AND the Monthly Card Tutorial) from me!  If your order is over $150, please do not use this code, but you'll still get the free gift.  The free gift is your choice of any item valued up to $10.00 in any active Catalog!  That includes some of the Host Exclusive stamp sets!  See my Customer Rewards page for full details.
Note: Make sure that you can see my name on the final checkout page listed as your Demonstrator when you order so that you know that you're ordering with me and you'll get my rewards!
You'll also be getting a link to my ZOOM The Craftroom (an exclusive TWICE-A-WEEK online event for my customers) and the monthly Online Tutorial. The Janury Tutorial features the brand new Country Bouquet Bundle!  
---
Sale-a-Bration 2023 Going on Now!
Sale-a-Bration is the coolest time of year at Stampin' UP!  Check out all the goodness – we've got reasons to SHOP – reasons to HOST – and…HUGE reasons to JOIN!!  
Get all the deets on my Stampin' Up! Promotions page – or…find out why NOW is the BEST time to join the team!
Here's a hint…
---
If you need any stamping supplies, I'd be very happy to be your Demonstrator. Just click on the Order Stampin' Up! Online Now button on the right side of the screen to go directly to my online store or drop me an email if you have any questions. Happy Stamping!
---
Shop the Clearance Rack here. Earn FREE Stampin' Up! Products – Join my Punkin Head Peppermint Rewards – My online customer thank you program!
---
Finn Fan Fix 
That's it.  Just a dog with a…leaf??…on his nose.
It happens.  Don't judge!
TTFN
M